About the Montgomery Ward model
During the 1940s and 1950s, Ingraham produced a lot of alarm clocks with the same design and same movement. They changed the model name on the dial, using "National Call" "Ace", "Utility", and "Nite N Day", just to name a few. The movement was had a very reliable design which varied very little over a period of about 20 years. This clock was made with the Mongomery Ward logo on the dial.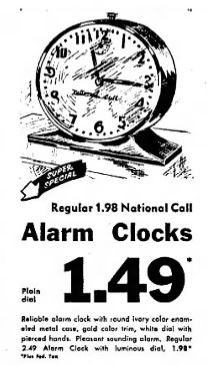 1940s Newspaper Ad
Model: 1940s Montgomery Ward
Features: The alarm set on this model is the knob on the top. Separate winders for time and alarm and separate setting stems for each. Loud ticking sound and LOUD alarm. This is the same design as the Ingraham "Ace" and "National Call" models, but made for Montgomery Ward company, with their logo and name on the original box.